Description
Features
Genuine Tesla Solid Black PBSB – OEM Touch Up Paint
Custom Made – Color Match Warranty – Easy DIY Application
3 Basic Steps to have a Professional Touch Up Paint, Paint Chip and Paint Scratch Repair
No Chance of Mistakes – Highly Effective – Professional Results
Competitive Pricing to Add Value and Protect Your Car
Touch Up Paint – How It Works For Your Tesla
Say bye to your stone chips and scratches in your Tesla Solid Black PBSB. With German patented technology Color N Drive puts an end to your problem in 3 basic steps. Evey KIT is custom prepared in line with your manufacturer's choice on original paint brand.
With innovative Tesla touch up paint system, Color N Drive easily treats the areas that needs to be covered fast and easy. Our system prevents your car from the affects of corrosion and rust. So you can get rid of expensive repairs easily.
Due to the patented solution 'Correct N Clear', you can use the system without any worries. With only three basic steps you can repair paint chips and scratches instantly for your Tesla.
Stone Chip Repair – Scratch Repair For Your Tesla Solid Black PBSB
Color N drive DIY touch up KIT performs excel for simple way of removing stone chips and scratching from your car's bodywork.
Repairing your car stone chips and scratches on a regular basis is both cost effective and makes good sense, as left to deteriorate these minor areas of damage can soon turn into rust spots that seriously affect the value of your car and spoil its overall appearance.
Main Features
Oem Quality Paint And Color Match For Tesla Solid Black PBSB
We guarantee our paint will match the original color of your Tesla, Our database of automotive paint colors create a valuable one-stop solution for our customers. Searching for touch-up paint through car dealers, auto part stores and collision repair shops can be quite difficult – we make finding and ordering car paint simple. Whether you are looking for old car paint, unusual car paint, or paint for a brand new car, our colors database has got it.
100% Match Unique Colors For Your Tesla
We use the highest quality car paints to achieve first class repairs every time, all of our car touch up paints are custom mixed to match Tesla original factory paint code, using precise computer mixing technology.
Special Patented Blending Solution 'Correct N Clear'
Our patented solution system only treats the special paint we mix for your Tesla Model 3 Solid Black PBSB and does not interfere with your factory paint. By this method we are sure that you can not harm your Tesla Model 3 Solid Black PBSB Color and you can do repairs like a pro for your Tesla with SOLID BLACK color.
Full Diy Touch Up Kit For All Your Needs
Everything is included in our system for you to have pro results in your Tesla. From sponges to brushes and microfiber cloths. Everything is included to do a proper touch up job for your Tesla with SOLID BLACK color.
How To Use
TOUCH UP
Without hesitation you can touch and cover up the defective area with a paint special to your vehicle's color code.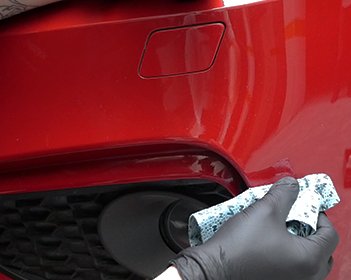 CLEAN
Clean the excess parts and overflows with the help of a German made and Patented special solution.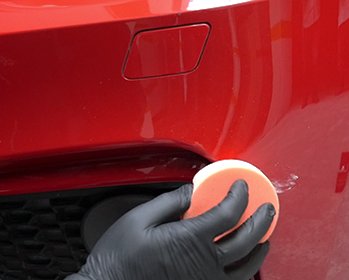 POLISH
Polish your vehicle with a Carnauba based polish.